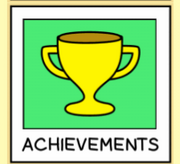 The Achievements logbook is located in the Menu, marked by the tiny blue notebook icon in the upper right hand corner. This tracks your progress in tackling the game's challenges. There are 22 achievements to beat.
Some of the achievements have a secret goal, displaying only ???? until completed, but still many of the tasks explain their goals rather easily.
Every task in the list, whether explained or shrouded in ???, has an empty bubble-like doodle check mark to the left side which indicates progress by filling up with a green color. Also, the percentage is displayed below the check mark doodle.
(Any ???? will be filled in as quickly as I can finish the mystery goals.)
Achievements

| Title | Description |
| --- | --- |
| Great Achiever | Complete the Girapedia |
| Tap-a-ton | Tap 100 giraffes |
| Giraffusion | Fuse giraffes 100 times |
| Garage Sale | Purchase 123 giraffes |
| Giraffes To Go | Open 2,000 crates |
| King of the Jungle | Reach 1,000 coins per sec. |
| King of Coins | Reach  50,000 coins per sec. |
| Coin Industry | Reach 1.0 Mi. coins per sec. |
| Wow, This is Wrong | Upgrade delivery box to get bigger giraffes |
| Giraffe Parade | Have all jungle giraffes wearing the same hat |
| The Party | Have all jungle giraffes wearing different hats |
| Tall Hats | Get 1 of each hat in the game |
| Adventurer | Discover the Continent level |
| World Domination | Discover the World level |
| Giraffe to be kiddin! | Create an ultimate being |
| Time Traveler | Recreate the Universe |
| Girabouros | Recreate the universe in less than two weeks |
| Speed Run | Recreate the universe in less than one week |
| Space Invader | Discover planet Mars |
| Area 51 | Discover all giraffes from Mars |
| Just Business | Sell 100 giraffes to the Martian |
| Rubypalooza | Sell 2 Giragmeout to the Martian |
| Forgotten Planet | Discover Pluto |
| Cubism | Discover all giraffes from Pluto |
| Freezer | Unfreeze 200 Pluto giraffes |
| Diamonds With Ice | Sell 2 Skyraffe to the Martian |
Media Files (Game Screenshots):